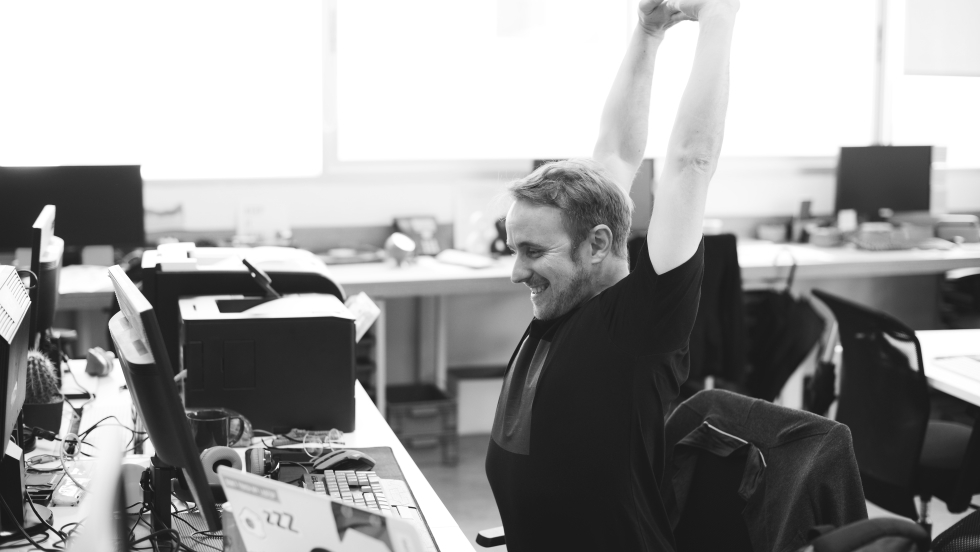 Although you may watch what you eat and try to get regular exercise, if you work in an office with large periods of sedentary behaviour, you may not be as healthy as you could be. More and more studies are pointing to sitting as the culprit, with some suggesting that sitting is actually the new smoking.
Given the negative effects of prolonged sitting, motivating your employees and providing them with the opportunity for movement on a regular basis is an important consideration, and one that will likely lead to increased employee health, well-being and satisfaction. It could even lead to greater productivity in the workplace!
Here are a few ideas to help your employees add more movement to their work day:
Encourage walking or stand-up meetings 
Team or internal meetings can be a great opportunity to help your employees introduce movement into their workday. Instead of gathering around the boardroom, encourage your employees to take the meeting outside for a walking meeting. On the not-so-nice-weather days, a stroll down the hallways or corridors will do. If space and weather doesn't permit, you can always just opt for a standing meeting instead.
Engineer your environment
Facility managers or management in general can also use spatial setup in order to encourage a little more movement. Strategically placing a printer, photocopier or water cooler away from the main area provides an opportunity for employees to get up and move throughout the day.
Provide the right equipment 
In addition to setting up your environment in a strategic way, you can also be strategic about the  office equipment and furniture you select. A flexible desk that allows employees to transition between sitting and standing throughout the day is a great way to allow for movement. Adding this small transition also allows for employees to add a little variety to their workday, which can be a nice change of pace.
How do you encourage your employees to add movement to their workday? What environmental considerations do you find helpful? Share your thoughts with us on social media using the hashtag #IONSFS and #healthybuildings.