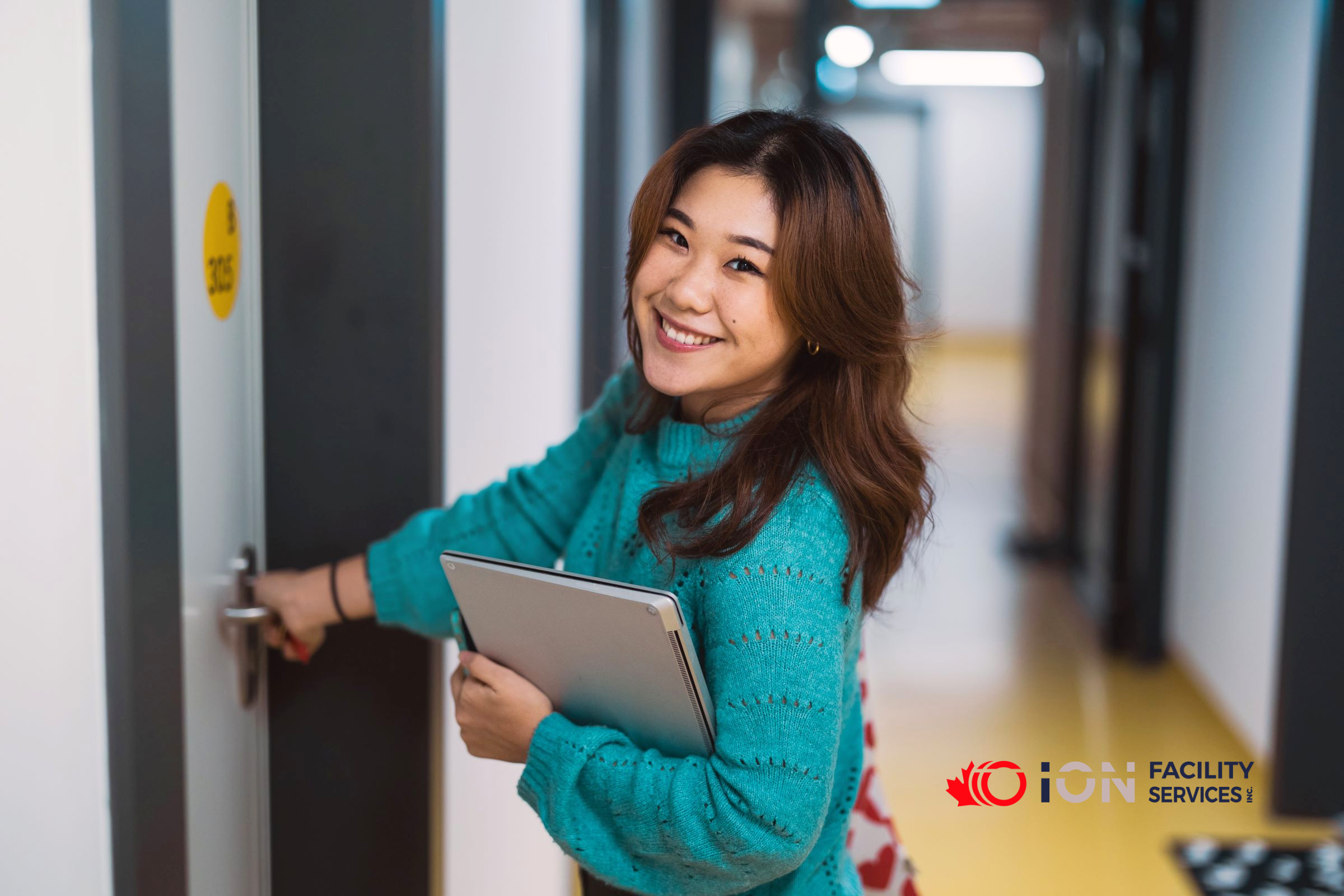 IONFS delivers the highest standards in janitorial services at higher education facilities across North America! We've been expanding our campus housekeeping division to include esteemed post-secondary schools such as University of Toronto, University of Guelph, York University and more. With a focus on student housing, we are an essential component of campus life. Learn more about our commitment to residence housekeeping services and how we champion an exceptional campus experience:



The students are our clients
Our university housekeeping teams work tirelessly to ensure that students have a comfortable living experience; residence occupants rely on our professional janitorial services to maintain a clean, sanitary and safe environment.
Housing janitorial/housekeeping services include cleaning common areas, hallways, entrances, showers/washrooms and individual student rooms. This means we are responsible for tasks such as sanitizing showers and washrooms, kitchens, vacuuming, dusting, washing floors, cleaning windows to name a few. In addition, we also support facility management by providing on-demand maintenance repairs including locksmith, plumbing, HVAC, and electrical.
Safe & sound
Apart from cleaning and maintenance, janitorial and housekeeping services are responsible for ensuring that living environments are safe and secure for students. We work to prevent accidents and injuries by keeping hallways, entrances/exits and common areas well-lit and free from obstacles. Our teams check that fire extinguishers, smoke detectors, and other safety equipment are in good working order.

We play a critical role in preventing cross contamination of germs and illnesses which can spread quickly on campus. Continuing to keep Covid-19 top of mind is a priority – using effective technologies such as electrostatic sanitation and keeping high-traffic areas and touch-points regularly disinfected.
Finally, our trusted campus team members undergo security checks (back-checks), wear the proper identification at all times, and exceed high professional standards. You're in good hands with IONFS.
Sustainable living spaces
In servicing the various campus residences, we also recognize our role in promoting sustainability and environmental responsibility. This includes managing waste/recycling and promoting green practices throughout each housing facility. We all play a vital part in the reduction of energy consumption and waste throughout every campus. Much of our work is done behind the scenes, but we are an essential part of each university's unique community – ensuring that the living spaces are clean, safe, sanitary and comfortable for students to thrive in. At IONFS, we are excited to help foster positive and sustainable campus housing environments that benefit everyone. Our CIMS Green Building Certification demonstrates our commitment to sustainability and ISSA industry compliance. Our trustworthy, customizable and cost-effective facility service offerings are what set us apart from other janitorial providers. Want to learn more about us? Be sure to contact us today and let's work together to reach your facility management goals.