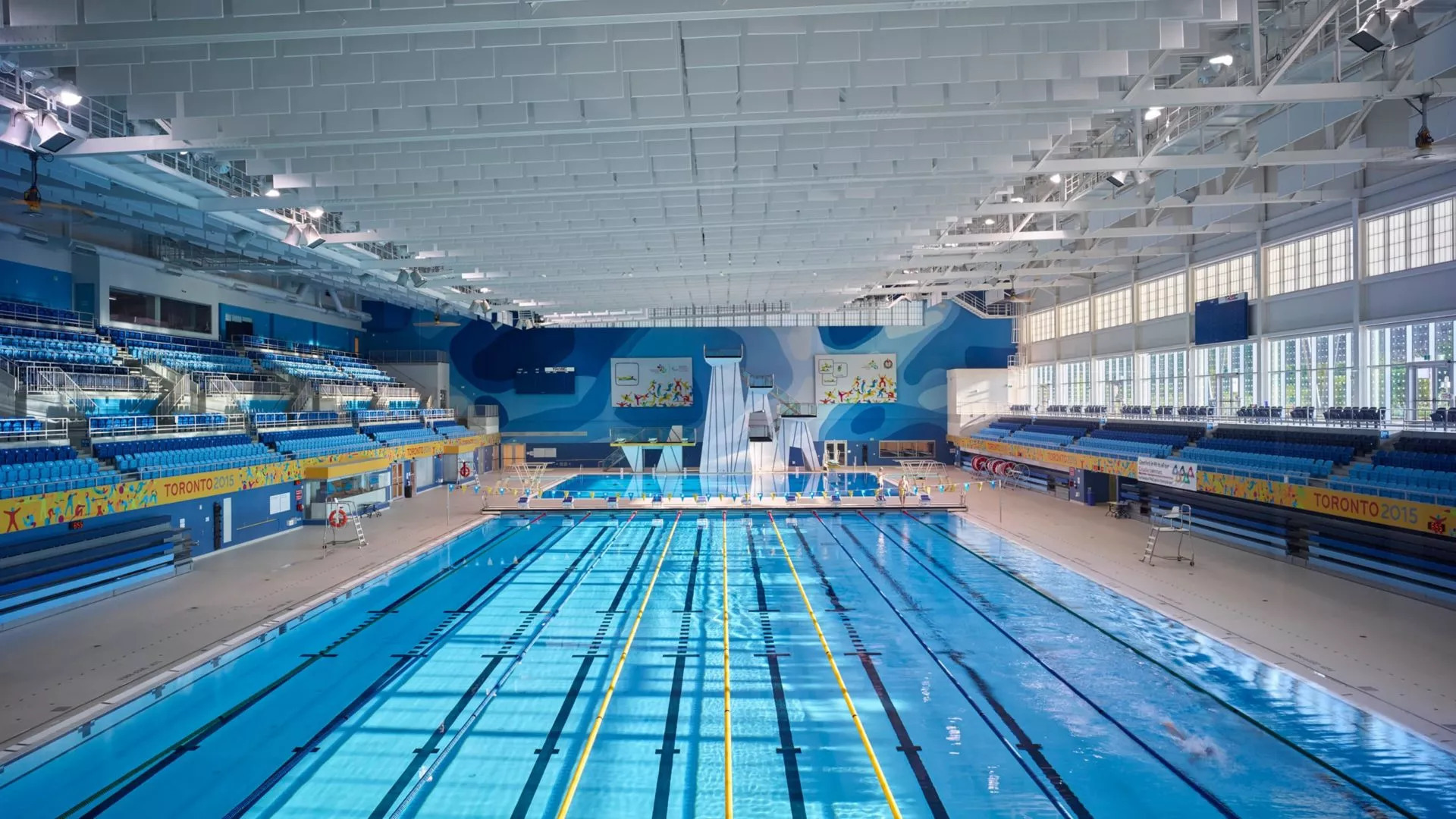 The entire team at IONFS is proud to announce that we will be diving into a new janitorial contract for the Toronto Pan Am Sports Centre commencing May 15 2023! The Pan Am Sports Centre, located in Toronto, Ontario is a state-of-the-art athletic facility that boasts a range of world-class amenities that cater to athletes, sports and fitness enthusiasts, and community members from across the GTA and beyond. Initially built for hosting the 2015 Pan Am and Parapan Am Games, this impressive complex is over 310,000 square feet and it is certainly a game-changer for Canadian athletics.
Indoor Amenities
One of the standout features of the complex is its Olympic-size swimming pool, which is a whopping 50 metres in length and 10 lanes wide. The pool is equipped with a moveable floor and bulkhead, which enables it to be transformed into multiple configurations. The facility also includes a diving pool with numerous platforms and springboards for divers of all levels.
In addition to the pool, the centre has a 13,000 square foot fitness centre, housing a range of equipment, including treadmills, ellipticals, stationary bikes, etc.. It has a multi purpose gymnasium and an indoor track and field space that includes a 200-metre, 6-lane track. The facility also includes a weightlifting centre, climbing wall, food court, meeting rooms, retail store and studios. It is a busy hub of activity all day, everyday – for people of all ages.
Outdoor Features
The Toronto Pan Am Sports Centre also has a range of outdoor amenities, including a FIFA-standard soccer field, a field hockey pitch, and multiple tennis courts. The facility's outdoor track and field area includes an eight-lane track, providing athletes with ample space to train and compete and for visitors to cheer them on.
Facility Needs & IONFS Janitorial Teams
Janitorial services are naturally an operational necessity for facilities such as the Toronto Pan Am Sports Centre. With their wide range of amenities and thousands of visitors each week, the facility requires comprehensive, expert cleaning supports to ensure that it is safe and hygienic for all users. That's where IONFS comes in.
The janitorial requirements include daily cleaning of the entire facility – as well as special attention to common areas and high traffic touch points. This includes sanitizing equipment, bathrooms, showers, locker rooms, lobbies and entrances/exits. Helping prevent the spread of germs and pathogens is essential – which is why we use highly effective technologies such as electrostatic sanitation to help keep staff and patrons healthy.


Our teams are also responsible for cleaning windows and doors, vacuuming, sweeping and washing floors, emptying trash / recycling bins, restocking supplies, pool deck cleaning, customized gym floor care and much, much more.
Our IONFS Commitment

Our janitorial teams are highly trained and knowledgeable about the precise cleaning needs of a sports and recreation facility of this scope. We carefully vet and back-check all employees, keeping safety and security a priority at all times. Further, IONFS is proudly CIMS Green Building Certified with Honours – proving our commitment to ISSA industry standards and compliance as well as our dedication to sustainable, eco-friendly practices.
We are honoured to be an integral part of the Toronto Pan Am Sports Centre's operations, and we look forward to seeing you there. Have questions? Connect with us today.